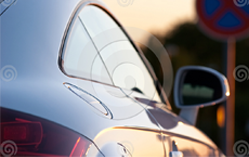 What you will see here, Dear Reader, is a chronicle of spite.
Undeserved, uninterrupted, unyielding spite, triggered by one man's belief that he could rely on the legal system to guide him through a simple real estate transaction.
What Garrick Krlich got, instead, was intimidation, frustration — and spite.
Krlich is a small contractor who lives unostentatiously in Hubbard, Ohio's East Hill neighborhood. Over the years, he has managed to acquire surrounding properties, older homes like his that he turns into well maintained rental properties. He makes a decent living, isn't greedy for more, and has been, overall, quite contented with his life.
Until the Clemente house next door became empty.
Until the noises in the night began. For more than four years now, the raucous sound of horns blowing has shattered the quiet of the night in the Krlich's neighborhood, disturbing not only Krlich and his wife, Lucinda, but surrounding residents as well. The Krlichs lie awake, listening ... waiting ... and then come the sounds of the roaring engines, the screeching tires — and the horns. Horns that seem to be screaming "Go away! Leave! Never come back!"